Posted by Robin Crake on Jun 04, 2020
Microsoft Teams is taking off. In fact, it's going stratospheric. As more and more work is moving to video conferencing, Teams is becoming essential.
Poly has just announced new Microsoft Teams Rooms kits. These Poly systems are certified for use with Microsoft Teams.
They bring a professional video conferencing experience to rooms from small to large.
All the systems include the new Poly GC8 touch control.
Poly GC8
Poly GC8 is a newly redesigned 8-in tablet with integrated stand. It provides a central control center for video conferencing.
You can manage meetings, share content, and more from the GC8. An integrated passive infrared sensor means it wakes up as you approach.
The display shows the Microsoft Teams user interface to reduce learning time and provides a seamless experience across media. It reduces the clutter of your attention, if you will.
And because the GC8 connects to the system via just one USB cable, it reduces clutter on the table, too.
Because Poly includes a 10-m (33-ft) fiber optic USB-A to USB-C cable in the package, you'll be able to position the tablet wherever you want. The cable offers incredible speed with extended range.
Poly G40-T
Poly G40-T is designed for professional Microsoft Teams video conferencing in small to medium rooms.
G40-T comes with a Poly Studio video bar, Poly GC8 touch control, Lenovo ThinkSmart Edition Tiny mini-PC with VESA mount, and 10-m fiber optic USB cable.
Studio is a plug-and-play USB video bar with integrated camera, microphones, and speakers.
The camera takes 4K UHD video. The ultra-high resolution sensor enables 5x digital zoom while still retaining excellent detail.
It uses Poly MeetingAI to provide automatic group framing and speaker tracking for a natural conferencing experience.
Studio uses a beamforming microphone array for HD audio performance. NoiseBlock technology greatly reduces background noise for comprehensible conversations.
The stereo speakers provide loud, clear audio.
G40-T also comes with a Lenovo mini-PC that has the Microsoft Teams Rooms app preinstalled. It has an Intel Core i5 processor with a 120GB SSD and 8GB of RAM.
The mini-PC comes with a VESA mount, so you can place it out of sight: reducing clutter even more.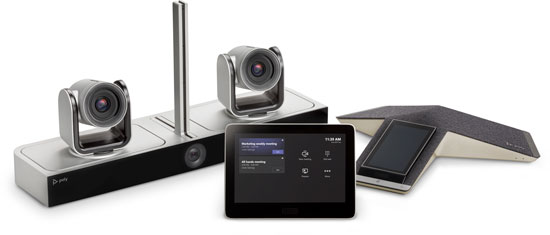 Poly G80-T
Poly G80-T is designed for an elite conferencing experience in medium to large rooms.
The package includes a Poly Trio C60 conference phone and Poly EagleEye Director II, plus the GC8 touch control, Lenovo mini-PC with VESA mount, and 10-m fiber cable USB cable.
Poly Trio C60 is one of the most powerful conference phones on the market today.
Because it's a Poly conference phone, you know that audio quality is best-in-class. It has an extended voice pickup range of 20-ft in 360°.
Designed with contemporary style, Trio C60 features enhanced audio technology including NoiseBlockAI.
EagleEye Director II makes it feel like there's an actual director controlling the conference. What do we mean?
It controls two Poly EagleEye IV 12X cameras to zoom in and focus on the active speaker's face. The cameras take 1080p HD video and have full pan-tilt-zoom functionality with 10x lossless optical zoom.
On top Trio C60 and EagleEye Director II, the package includes a GC8 touch control, Lenovo mini-PC, and 10-m fiber optic USB cable.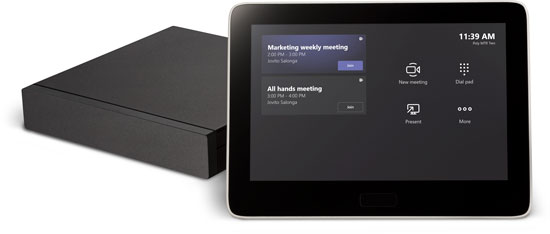 Poly G10-T
Poly G10-T is a base kit with GC8 touch control, Lenovo mini-PC, and 10-m fiber optic USB cable. It does not come with a camera.
G10-T is there for a business that already has USB peripherals, like a Poly Studio. Use your existing peripherals and save money.
Pre-order the new Poly Microsoft Teams Rooms kits today!
Find the most extensive portfolio of certified Microsoft Teams video conferencing systems from the specialists at Video Conferencing Supply.