Posted by Robin Crake on Jan 27, 2022
Microsoft Teams started as a workplace chat application. Microsoft has since folded more and more features into it, including what used to be Skype for Business (and before that, Microsoft Lync). This means it's also a complete business video conferencing platform now. Teams is a part of the Microsoft 365 suite of applications, which means it seamlessly integrates with Outlook and the like.
Microsoft works with manufacturers like Poly and Yealink to ensure that their devices work with Teams and meet a high standard of audio/video performance, so when you buy a Microsoft Teams Certified device, you're getting a professional-grade device with native integration and a full feature-set. Importantly, to achieve certification, the manufacturers must prove their devices' performance.
That's why it's important to shop for Microsoft Teams Certified video conferencing equipment. But how do you know what to buy when you want to establish a professional Teams video conferencing system?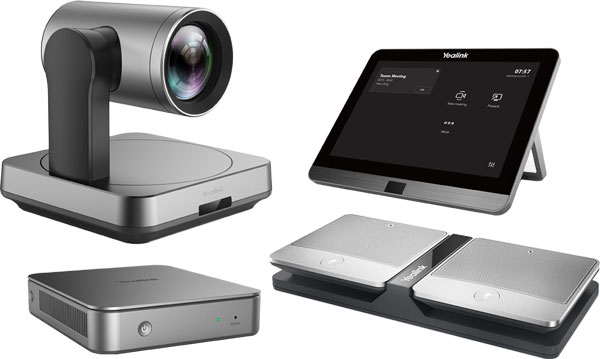 Yealink MVC640 Wireless
Microsoft Teams Certified Video Conferencing Systems
When you see the term "video conferencing system," it can mean two things: the video conferencing platform itself (in this case, Microsoft Teams) or all the devices working together. We're talking about the second one here: the devices not the platform.
There are many devices you might find in video conferencing system, including:
Camera
Microphone
Speaker
Display
Touch Controller
Content Sharing Device
Of course, you might use multiple of the same device, like two cameras or expansion microphones. Often a single device combines multiple functions. For example, video conferencing bars like Poly Studio X50 combine a camera, microphone, and speaker in one device, simplifying your life. By the way, Microsoft Teams video conferencing bars are becoming very popular because of their simplicity.
Manufacturers also make your life simpler in another way: Microsoft Teams video conferencing kits. When shopping for a video conferencing system for Teams, you can either buy the devices piece by piece or you can buy a kit that contains all the necessary devices for a particular room size. You might find these bundles called MTR kits or MTR systems. "MTR" stands for Microsoft Team Rooms. Whatever they're called, a video conferencing kit for Teams has been put together by the manufacturer using only Teams compatible hardware, so you get guaranteed performance. (You might find kits on other websites that are cobbled together by distributors or resellers. We only sell kits directly from the manufacturers.)
Both Poly and Yealink offer Microsoft Teams video conferencing bundles for room sizes from the huddle room to extra-large conference rooms. For example, if you want a Microsoft Teams video conferencing kit for a medium-sized room, Yealink MVC640 Wireless contains a 4K Ultra HD PTZ camera, touch controller, two wireless microphones, and mini-PC with the Teams Rooms app already installed. All you need to bring is the display. It doesn't get much simpler.
We break down room size not so much by the actual square footage, but rather by how many people are in the room:
Huddle room: 1 to 5 people
Small room: 6 to 8 people
Medium room: 9 to 13 people
Large room: more than 14 people
Using those numbers as a guide, here's the simplest way to shop for Microsoft Teams video conferencing equipment:
Determine how many people are going to be in the room on a video call to figure out what room size you should be looking for.
Look at the Microsoft Teams kits on our website for that room size.
If you have existing equipment that is Microsoft Teams Certified, see if you're missing any key components from one of the kits (or any components that might improve your experience) and get those components individually.
If you're starting fresh, get the kit that best fits the room size: you won't have to worry.
If you have further questions, give us a call at (888) 272-5560. We're the video conferencing specialists!